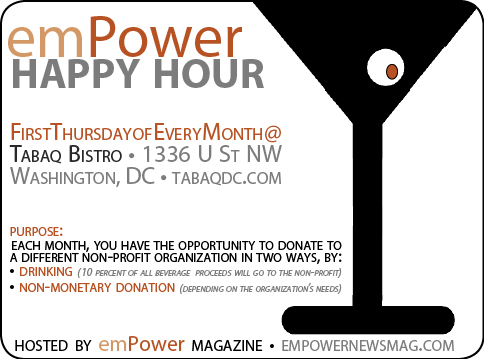 Start your month off right by networking for a good cause!
On the first Thursday of every month, emPower magazine is hosting an emPower HAPPY HOUR at Tabaq Bistro to further our mission, which is to not only discuss social issues, but also challenge our readers to take action.
Each month, you have the opportunity to support a different non-profit organization in the Washington DC Metropolitan Area. Attendees can give in two ways:
• By drinking (10 percent of the beverage proceeds will go to the non-profit)
• By bringing non-monetary donations (depending on the needs of the organization)
August Non-Profit Recipient: Sasha Bruce Youthwork

Mission: To improve the lives of runaway, homeless, abused, and neglected and at-risk youth and their families in the Washington area. They achieve this by providing shelter, counseling, life skills training and positive youth development activities to approximately 1,500 youth and 5,000 family members each year..
Non-monetary request: TBD
Date: August 5, 2010

Admission is Free
Date: August 5, 2010
Time: 5-8 pm
Location: Tabaq Bistro 1336 U Street Northwest Washington, DC 20009
Attire: business casual
Ticket/Pricing Information:
FREE