The Jethro Tull leader is coming to Wolf Trap. 
Here's one for ya:
Q: Why was the flutist arrested? A: Because he was in treble.
I know, kinda poor, sorry. But that aside, if you sit down and ponder who truly pioneered the flute as a rock and roll instrument, you can forget that bad joke and recall some classic songs as prime early examples.
There's early ones like The Association's "Along Comes Mary," or Traffic's "John Barleycorn Must Die," and don't forget "Undun" by The Guess Who, or even Canned Heat's "Going Up The Country" and Boz Scagg's "Lowdown," oh, and the open of Marshall Tucker Band's "Can't You See" and a gaggle of others. Go ahead, call one or two of 'em up on YouTube and you'll hear that unimistakable extra flutish sparkle. There are a host of revered tunes that had the flute as a true and memorable enhancement of their rock sound.
But clearly no one artist has threaded their band's needle with the flute's breathy tones more profoundly than Ian Anderson, one of rock's most unique and longest lasting legends who is celebrating his fiftieth anniversary as leader of rock legends Jethro Tull this year with a worldwide tour that stops at Wolf Trap on September 7.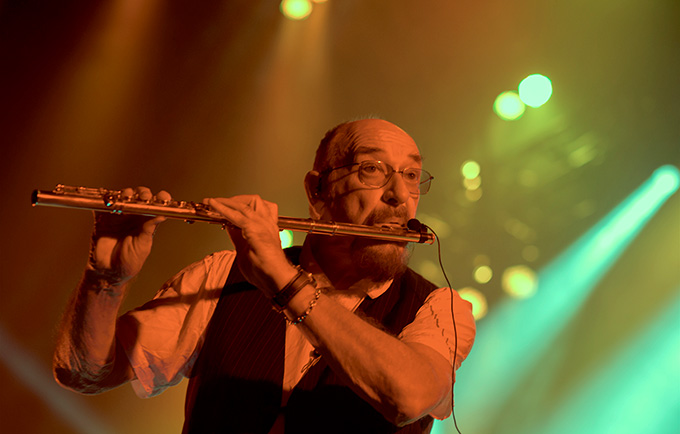 If you ask the wry and engaging Anderson about his legacy, his storied history, he'll tell you among other fascinating tales and even stunning family news (yes, his son-in-law is Walking Dead's Andrew Lincoln, aka Rick Grimes) that he didn't pick up the flute as a child, never, no, quite to the contrary. He picked up the flute almost randomly in his late teens, simply because he wasn't going to compete with some of the truly spectacular guitarists that were hitting the British music scene at the time, and needed to find another way to make his mark.
"I decided when I was just 19 that I was never going to cut it as a guitar player," Anderson told me a few days after his 71st birthday, and in the midst of Tull's celebratory 50th anniversary tour. "At that point, I'd heard Eric Clapton and Jeff Beck, and I realized that these guys were so far ahead of the rest of us, especially Eric Clapton. In '67 I think, I tried playing some of Eric's pieces when he was with the John Mayall blues band … the Bluesbreakers. I realized that I could understand what he was playing, but it was so fluid and so melodic and so rounded, I just thought, I'm never going to be able to do this, and I don't want to be a second or third rater. So I decided at that point to sell my guitar, and find a guitar player to join the band who would be more capable than I was."
OK, I get it, you don't want to compete with guaranteed future Hall Of Famers on the axe, but you find a new path, you go rogue, and you pick up…the flute? Wait, what? Well, Anderson's tale sounds almost too simple considering the massive fame he's achieved, but it was really just because the flute was there; gleaming in that music store on that fateful day that would change his life, when he went to trade in his guitar, or Lemmy's guitar, really.
"So I partly exchanged my Fender Stratocaster, which had previously belonged to, believe it or not, Lemmy (Kilmister) of Motorhead," Anderson recalled. "I had inherited that guitar and then I partly exchanged it, I looked around the shop and I picked a Shure Unidyne three microphone, and for no particularly good reason, glinting in the sunlight off the wall, there was this shiny flute. And being spontaneous, I said, 'Well how much for the flute?' And he said, 'Well 30 quid,' and the Shure microphone was 30 quid. And he was only going to give me 60 pounds exchange on the guitar, which of course would be worth about $30,000 today. So, I ended up with 60 pounds worth of part exchange, and I got a flute and a microphone, and the microphone I started using straight away, the flute I didn't get a note out of for another four months, until I actually managed to coax a note out of it in December of 1967."
Anderson then taught himself to play the shiny silver woodwind based largely on his guitar knowledge, taking an insightful, analytical and sensibly simple approach to playing an instrument that would become his trademark.
"Once I had the blues scale, I could start playing the kind of solos and rifts and things that I'd done on the guitar. So I translated my not very good guitar playing into even worse flute playing. I suppose two or three weeks later I was playing it at the Marquee Club in London in January of 1968 when Jethro Tull became Jethro Tull. And that was our point of difference that made us sound not quite the same as Savoy Brown and John Mayall and Fleetwood Mac, who began at that time as well. Yes, it turned out that I wasn't the only flute player, there were a couple of other bands that did have a flute, but not full time, notably, King Crimson and Traffic. I realized that I wasn't the only flute player in town. But then I think I'd become the loudest. So, that qualified me for some notoriety."
Anderson's (and thus Tull's) fame grew by leaps and bounds from those experimental days thanks to not only honing together a killer band that rocked hard and also highlighted this new instrument he'd picked up that fateful day, but also largely because Anderson had no preconceptions of what he was supposed to sound like, or be like, or play like. So he was really able to craft his own persona, as well as his own sound.
"In some ways, I suppose the fact that I didn't have any flute lessons, I had no preconceptions, I had nobody telling me do this, don't do that," the eloquent Anderson said. "So I just played…joining together elements of Dixieland jazz with country music and bluegrass music."
As do that he did, creating a sound that was unlike most of what was coming out of music at that time, parlaying his flute sound and vibe with hard rock riffs and excellent songwriting. And as for his trademark playing style? Sure, it's a question he's answered a million times, but Anderson obligingly says it's in many ways the same kind of theatrics other rockers of his era did to make their mark, nothing more, nothing less.
"They noticed two things about the early Jethro Tull in the first couple of weeks, one that they've got a flute player, and two, the flute player stands on one leg. Those two things really got put together by the very first journalist who wrote about Jethro Tull. I didn't do those two things at the same time until I read the newspapers, and then I thought, well I better learn to play the flute standing on one leg now. So it just became a little bit of a trademark. Chuck Berry had his duck walk, Joe Cocker did the windmill waving his arms around like a demented scarecrow…and Mick Jagger did his wiggling of his hips and clapping his hands together in front of his face. People have these little things that they did that suddenly set them apart, and if you're lucky enough to have one of those, then flog it to death."
But rock star gimmicks and schtick aren't always easy, especially when you combine superb flute acumen with acrobatics during a three hour show, it remained a challenge that as rock history can attest, he finally mastered.
"Is it easier to play the flute standing on one leg? Say the winds blowing, or there's a slippery stage, then trust me, it's not that easy to do. But there were also times when I'm playing and I'm standing on one leg and it feels very natural and willowy and rather seductive and rather balanced. And there have been times when I've been challenged by someone in authority asking, demanding to see some ID. And I've just stood on one leg and mimed playing the flute, and said 'Will that do?' Sometimes it's worked, otherwise I have to say, 'Okay, you don't know who I am, so go to JethroTull.com.' "
Anderson knows more than anyone that being able to do anything for 50 years is a minor miracle, and he is just thankful that he is still playing the music he loves, clearly not too old to rock and roll. He has some new music he wants to get out next year, he'd like to do some things he hasn't done before, so yes, Ian Anderson has endured, he's come a helluva long way since he was sitting on that park bench. Or at least that guy with the bad intent was.
"I think the feeling of being productive, the feeling of still engaging with the world around you is a very, very fortunate place to be in older age. And we should relish that when it comes, knowing that sooner or later, of course the game will be up. And old age senility, ill health, will take it's final toll. Well, certainly not in the next few months because I have contractually obligated engagements to fulfill. No, I got to go hang in there for a while."
Ian Anderson Presents Jethro Tull's 50th Anniversary Tour at Wolf Trap, 1645 Trap Road Vienna, Virginia 22182. For tickets, click here.