Stepping on stage during their 50th anniversary tour, the 'Little Feat' band members know exactly why they're still there (wherever it is they may be).
"We remember rock and roll when it was beginning."
During their legendary, but briefly interrupted 10-year run from 1969 to 1979, the L.A.-based band
Little Feat
crafted, kneaded, concocted and molded a helluva unique sound that no one had really heard before.  It was a sort of New Orleans-esque jazz rock blues funk R & B vibe that resonated and reverberated through a generation of 70s rock 'n' roll fans. The music was a big chunk of it, but it was also the band's songwriting. Often deep, yet sometimes whimsical, the storytelling tunes separated the Feat from other bands of the time. Now, it's been 50 years since songwriter, guitarist and vocalist
Lowell George
left
Frank Zappa
's The Mothers of Invention rock band to form Little Feat with pianist
Bill Payne
.  The name Little Feat came after Mothers' drummer Jimmy Carl Black commented on George's "little feet," but they changed the spelling to "feat" in homage to The Beatles.
Paul Barrere
joined Little Feat in 1972, three years after the band was formed, and still relishes the distinctive music that keeps people coming back for more year after year. "Well, it's the music itself. It's the songs," Barrere said leading up to Little Feat's 50th Anniversary tour, which stops at the
Warner Theatre
in DC on March 7, before moving on to New York and other East Coast cities, and then its Western U.S. run later this spring. "The songs are as varied as the players who play them. And it's remarkable to me that we've managed to survive so long, being as eclectic as we were. That, in itself, is a blessing and a curse. Because most record companies back in the '70s, they wanted to be able to put you in a box … They could never quite figure out where to put Little Feat. The box was too big." "I think that resonated with our fans," Barrere said, "and with music lovers who got turned on to us after the fact.  It is because the songs are provocative, they're evocative, they have nice little stories." The Feat sound that George and Payne had originally created got a creative blast once Barrere and other talented musicians came onboard and took both the songwriting and the sound they were helping to mold seriously. "When Sam [Clayton] and Kenny [Gradney] and myself joined, we funkified the band really," he said. "I think that got the people who just wanted to get out there and snake dance, you know?" "We approached [writing the songs] like you would a book or a movie or something," said the affable Barrere, who is stable but in the throes of liver cancer which was diagnosed in 2015. "You've got to have a beginning, a middle, and an ending."  With this approach, Barrere would write some of Little Feat's most revered tunes, like "Skin It Back," "Feats Don't Fail Me Now," "All That You Dream" and "Down On The Farm."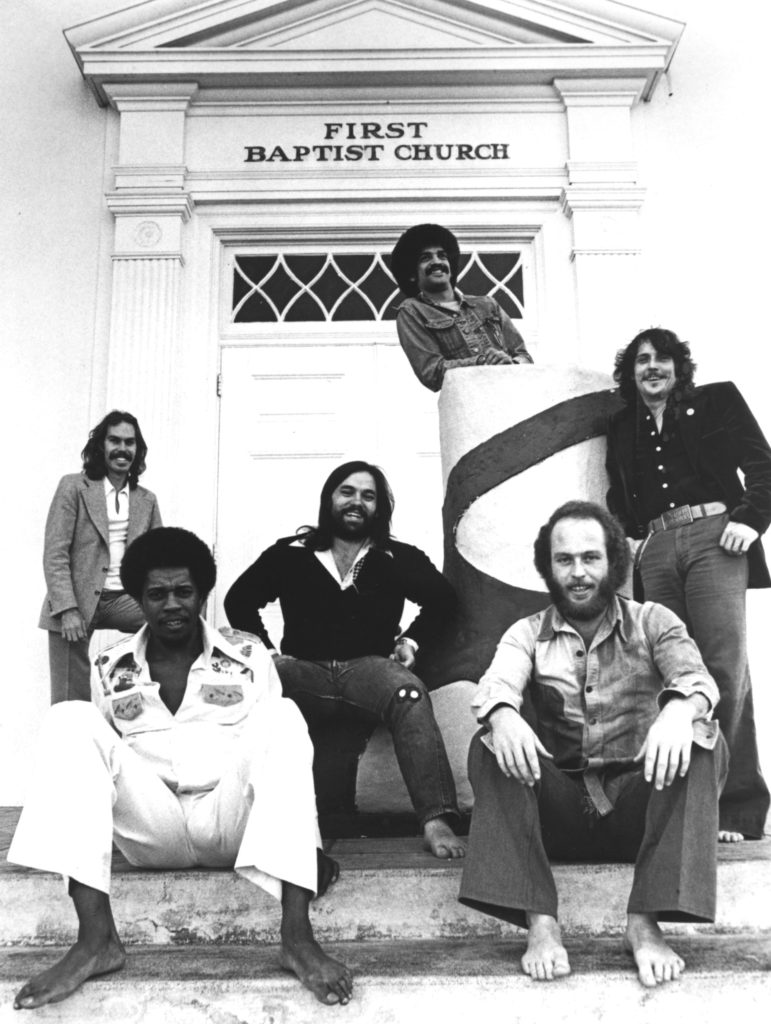 It was George, however, who after a trip to "N'Awlins," brought a new vibe to the band, infusing their already burgeoning sound with this shot of new yet old-style music. Barrere recalled: "[Lowell] went down to New Orleans and played with The Meters on one of their records, and he hung out in the studios down there … I think that's really where 'Dixie Chicken"s groove came from. And then Kenny and Sam, both those guys were born in Louisiana, so they brought a lot of that feel with them. "Let's face it, we're old, so we remember rock and roll when it was beginning, and a lot of that was based on New Orleans and Macon, Georgia, and Memphis, Tennessee, it had that same, what I call,
real
R&B."  Feat had found their identity. After George's death in 1979, it took the surviving members nine years to get Feat back sailing again. With a couple new buds along for the ride, they might not have had their Lowell, but at least their unique Feat sound picked up pretty much right where they left off. "I'll tell you a little story," Barrere said with a skip in his step. "When we were thinking about putting the band back together for 'Let it Roll' and writing songs and so forth, once I had a recording of 'Hate to Lose.' I played it back-to-back with 'Dixie Chicken' and you couldn't tell which era it was from. They both had that same timeless feel to them." As for the set lists the band is crafting for this 50th anniversary run, it's business as usual, as in they pick and choose from a wide range of Feat songs, hoping to change things up each night to stay fresh. "It's been the same for, gosh, probably since '91 or '92, which is 'never play the same show twice in a row.' There are songs that if we don't play them, we get a lot of flack for it, like 'Dixie Chicken' and 'Willin'.' But for instance, for this tour coming up, there's a list of 55 songs I think … I like to keep it fresh, I like to keep changing from night to night …
Fred (Tackett)
said it best, he says, 'It's not really a set list, it's sort of a suggestion.' Sometimes you pull an audible, depending upon the audience." Little Feat has tirelessly endured and still draws crowds of devoted fans who loudly sing their songs along with them, and sustain the Little Feat legend.  Barrere says he doesn't necessarily miss Lowell on a daily basis, but he thinks of "what could have been," especially if Lowell had had access to today's technology. "Lowell's passion was in the studio. He really loved being in the studio, and would spend hours in there. Even back in the days, he would edit cassettes. If you can imagine him with 'cut and paste,' it would have been like, oh my God, you know? But yeah, we're fortunate that we have these great songs of his that we play, so it's like you don't miss him, because you pay tribute to him every time you go on stage." Barrere's innate joy is celebrating their 50th year as one of rock's most beloved and unique bands." "When I joined this band in '72 and we did 'Dixie Chicken' in '73, I was like, 'Okay, this is cool. This is going to go on for a few years. Onward and upward.' Other than the hiatus after Lowell's passing, it's been just a blessing to be a part of this band for that long. The band has grown. The playing has gotten better. It's always been a work in progress."
Little Feat performs Thursday March 7th at the Warner Theatre, 513 13th St NW, Washington, DC 20004. For tickets click here.
Visit Steve Houk's website 
livingonmusic.com