By Steve Houk  livingonmusic.com
For a musical virtuoso and true groundbreaker like Adrian Belew, you'd think that sharing the studio and the stage throughout his illustrious career with legends like David Bowie, Frank Zappa, Talking Heads, Joe Cocker, Nine Inch Nails, Cyndi Lauper and many others would be the bomb. And sure, in many ways, it was.
But it's really when he's able to do his own thing, like, get into it with his own band, record his own songs, and then go on tour, that Belew seems most at ease, most excited and ultimately, most content.
"Man, this is gonna be fun," Belew told me about 15 minutes before jumping into a rehearsal with his band for their upcoming Pop-Sided tour that stops at DC's City Winery on Wed. April 10. "I think one thing that's different about (a solo tour) is just that, it's the people themselves, and how much fun we have being in a van and driving all over the U.S. It's something I've always really enjoyed because you just turn into one big, happy family … Plus my favorite thing probably is making my own music, and I think that's natural."
You'd have to think that Belew has had many hearty laughs, and triumphs, and monumental experiences, in his phenomenal 40-plus year career, lending his innovative and unique guitar sounds and musicianship to some incredible artists' catalogs, including making his mark on some amazing records, including Bowie's Stage and Lodger, the Heads' Remain in Light, Zappa's Sheik Yerbouti, Paul Simon's Graceland, NIN's The Downward Spiral, those only being a few among dozens of others by a wide ranging, eclectic group of top artists. Oh, and there's that uber-influential band named King Crimson which he was a co-founder and part of for over three decades.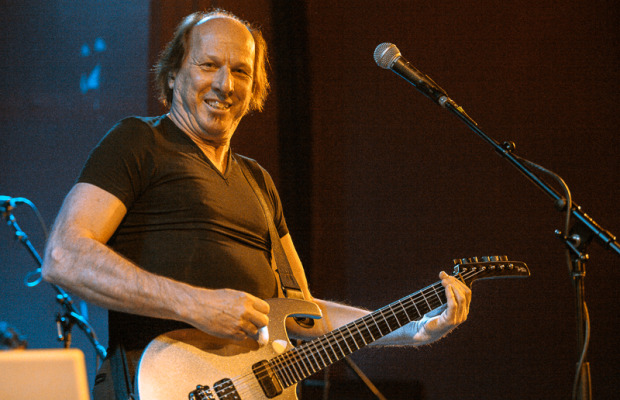 Belew takes an immense amount of pride into doing his own thing, even with a resume a mile long that most musicians would die for. Yet he still loves to join forces with others on creative collaborations, so it becomes a delicate yet enriching and fulfilling balance.
"Through the years where I was mainly the side man, and even when I was being my own guy, I never lost that feeling of wanting to have collaborations. When I do my own solo records, I like to play and do everything; I do the artwork. I do the whole kit and caboodle 'cause it's a challenge, and I like to present it as, 'Here's my painting.' But I also really like to have the opposite side of the coin too, where you're not in charge and you're collaborating and it's more than just your ideas, and your ideas even might be changed by something that someone else says or does. So I think it's a healthy diet that way."
Who knew that a kid from Kentucky would end up being one of music's most coveted and sought after side men and collaborators. Although Belew wanted to make music his career early on, he really never dreamed of how far he would go.
"I had hopes and dreams, I didn't know exactly what they were. I just wanted to follow in the footsteps of The Beatles and become a recording artist, so I figured I'd be in a band or something. I was hoping once I taught myself to play guitar, then naturally my hope was that I would be one of the songwriters and singers. So you start from there. Of course, it sounds kind of ridiculous to say, 'I hope I'm gonna wake up tomorrow and be playing with David Bowie.' So that's not gonna happen. None of those things were on my menu."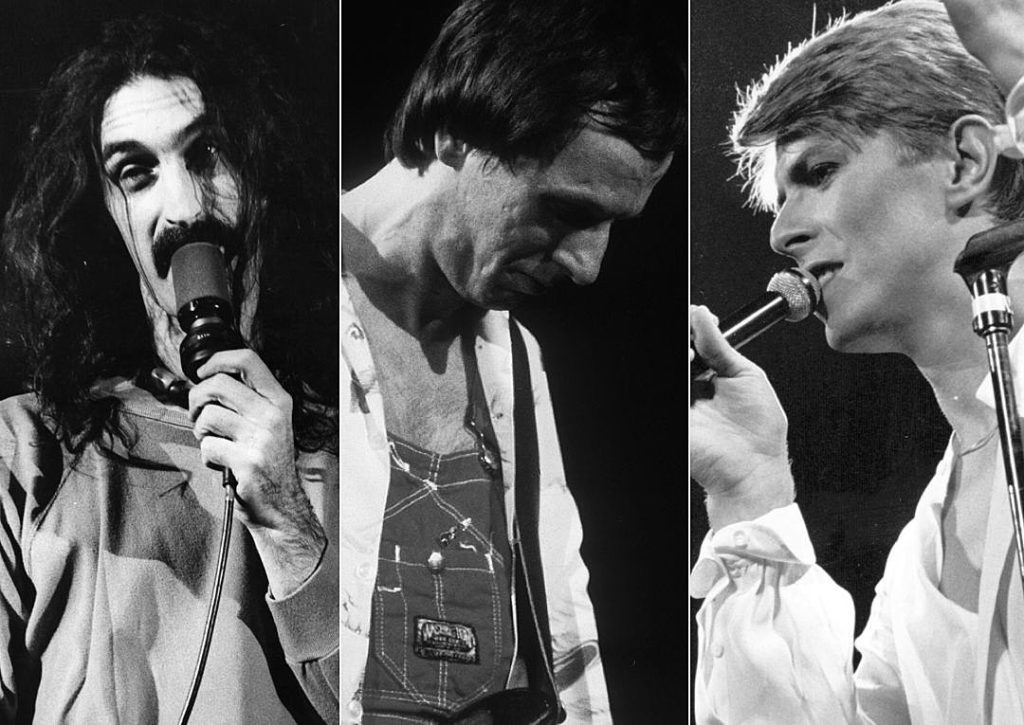 Of course, Belew would go on to collaborate with Bowie, but it was a struggle for him early on, and success was not expected. It was a visit from Frank Zappa at a breaking point that really kicked Belew's career into another stratosphere.
"When Frank came and heard me in a little club in Nashville, I was at my wit's end, really. I was three months behind on my rent. My car was broken down. I was really at a scary point where I said, 'Well, maybe I've missed the boat here.' Then all of a sudden, here comes Frank and saves me, puts me on the big stage, and never looked back. So I owe him a great deal for that opportunity."
Belew's musical approach is unconventional, in that it often goes places most other guitarists don't necessarily go. And that comes from his earliest musical training and experimenting, which has evolved into an almost unparalleled style.
"When I first started guitar, I was already a drummer, and I think that's a very good thing to have as a background, and that's probably why I can write odd time signatures and play with people like Robert Fripp, because of my drumming background. I could sound similar to a lot of different guitar stylists, and then one day in the mid '70s, I realized, 'Well, I can sound like a lot of people, but who am I?' So in place of playing a Hendrix lick or something, I would substitute something else. Whatever that was was the beginning of what I was coming up with, mostly it was just different sounds. All that kind of gave me my own little piece of real estate in the big large world of rock guitarists."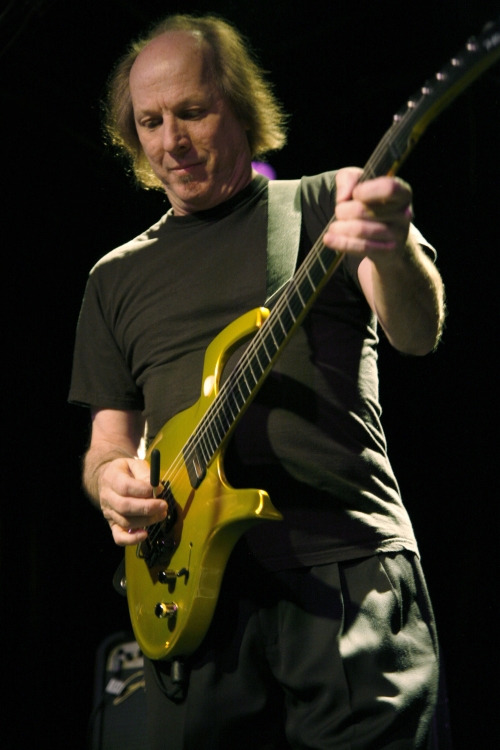 As for the band Belew is out on the road with now, he glows like a proud papa when talking about their chemistry and the wide swath of his career that they are able to cover. And when reprising Crimson or other material with this quartet, it still has a new and exciting feeling to it that energizes him, which is good for a longtime musician to feel.
"This is allowing me to open the book on all of my material, especially piano songs and things that I've never even been able to play before in the Power Trio. The King Crimson section of what we're doing is a bit different now because we're back to having two interlocking guitars, just as Robert and I did. Plus we've got a couple of new songs from the brand new record and we're pulling things out of my catalog that we've never played before," he says. "So I think we're covering all our bases."
For Adrian Belew, life has been, and continues to be, good on this quite miraculous 40-plus year journey. He has made his indelible mark among music's elite as a tremendous collaborative talent and relishes those memories, all as he continues to fulfill his own creative palate with his solo work and other projects, like participating in Bowie tributes worldwide. All that lifetime satisfaction shows when Belew hits the stage these days.
"There are just so many bright moments that it runs together like a good documentary film or something, because it's hard to choose any one period. I love where I'm at right now. I think that's important, 'cause I really like the new songs I'm writing. I like the fact that I'm doing a variety of things. So I've got a lot of vehicles. All of them, to me, in a way they're all the same. They're people flying, having fun, making music. The joy of music and the hard work that goes into it, it's all rewarding."
Adrian Belew performs Wednesday April 10th at City Winery, 1350 Okie Street NE, Washington DC, 20002. For tickets click here.