By Steve Houk    livingonmusic.com
In researching the astonishing songwriting career of the legendary Jimmy Webb, one image kept cascading through my mind.
My parents.
You see it was Lynn and John Houk who got me into music from the get go, even from inside the womb 58 plus years ago I could feel the beat. They played records of varying sounds as I grew up, whether it be rock, jazz, folk, pop or show tunes. And some of the most coveted records they had — Up Up and Away by The 5th Dimension, By The Time I Get To Phoenix, Galveston and Wichita Lineman by Glen Campbell, the 45's of MacArthur Park by Richard Harris and Worst That Could Happen by Johnny Maestro and The Brooklyn Bridge — all of the music that wafted through the corners of our minds, and still does, is from the heart, soul and mind of a minister's kid from Oklahoma named Jimmy Webb.
Memories generated by music happen with a lot of different kinds of songs and melodies. But Webb's songs, both those aforementioned as well as other memorable collaborations with artists like Linda Ronstadt, Art Garfunkel, The Supremes, Barbara Streisand, Joe Cocker, and even Kanye West, are a part of our DNA and vernacular – they hit home and remind us of innocent days, as well as helping past and future generations through trying ones. Though Webb realizes the power of his enduring music, he remains strikingly humble.
"I firmly believe that every individual will encounter some moment in their life that is, for whatever reason, a crucial, catastrophic, crisis moment," Webb told me as he took a break from his current tour that brings him to DC's City Winery on April 11. "They've lost something or someone, and that seems unbearable. But there's always a song that, like an angel, comes down and attaches itself to them. So many of these people look me in the eye after a show and shake my hand and say, 'Thank you for writing 'Wichita Lineman' because it got me through the worst moment in my life.' It's such a humbling thing because I know I didn't do that, I didn't write that song specifically for them so they could get through some terrible episode. But I know that there's another power working, there's a spiritual power that works through music and I strongly believe that. You ask me how on earth did you write these songs? I have to say that the credit comes from what I believe is a spiritual conduit from a real inspiration."
So where did this conduit, this rare inspiration, this intuitive sense evolve from, one that would lead to supreme songwriting fame, Grammy wins and Hall Of Fame nods? Well, Jimmy Webb had pretty humble beginnings, with a Baptist Minister for a father who deterred him from listening to popular music. But his mother, a compassionate disciplinarian, kept on him to learn how to play, and that was a key catalyst for what would follow.
"It started with my mother's obsession that I become a pianist, sitting me on the piano bench when I was six-years-old," said the affable and talkative Webb. "We had an agreement that if I would play the piano for an hour every day, she wouldn't hit me with a stick, so that worked out very well over the next 12 years or so. When I was a young teenager, I assumed what she regarded as my rightful position on the piano bench at the First Baptist Church. My father was the minister, so of course I would be playing there. I really believe I probably would have remained there for the rest of my life, just if for no other reason than because of the power of my mother's personality, but she died at 36, when I was 16, and unfortunately, it was a great tragedy for the whole family."
From his time on the piano bench and with his mother's spirit abound, Webb started to emerge as a budding songwriter, and even at such a young age, understood how a lot of music was written in the world of popular music. It was an astute and vital realization that would be critical to his future songwriting successes.
"I had begun around the age of 13 or 14 to write my own songs, and they were humble," Webb said. "They were the sort of fledgling efforts of someone who spent hours listening to the radio and did a lot of comparison between hit records and the 'follow-ups' for those records. But I was aware that there was a process, where there was a hit and then there was another song written that was very much like that. Not too much like it, but just enough like it to peak interest in the listener for a second go-round, that's what they called a 'follow-up.' So I was writing my own little songs as 'follow-ups' to records that I heard and I began to use that as a calibration, a way to measure my efforts against those of professional songwriters who were right at the top of the charts.
"And I think that that was key, the way I related to the music I heard was in a very competitive way," he continued. "When I got to the point where I thought my songs were at least the equal of some of these so-called 'follow-ups' that weren't very good, I thought, well at least I'm in the same ballpark. I may be in the cheap seats, but I can see home plate from here, you know?"
After a first stint writing at Motown in his early twenties, Webb was let go amicably and able to keep a cache of the songs he wrote because Motown wasn't interested. "They turned down 'By the Time I Get to Phoenix,' they turned down 'Up Up and Away,' they turned down 'Didn't We,' they turned down 'Galveston.' I walked out really with my career on my back, because they gave me the first decade of my career by giving me those songs back."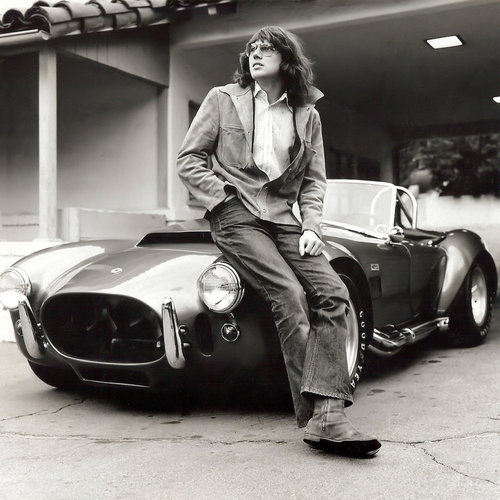 Webb then met music legend Johnny Rivers and never turned back. Webb's first writing "assignment" in Rivers' camp was to help a new band of fellow twenty-somethings with their first record. The rest is, well, music history, or at least the beginnings of Webb's story.
"Johnny went off to some fancy thing in Europe and said, 'While I'm gone I want you to work up an album with these guys,' and just walked out as though it would be the most natural thing in the world. So when I arrived at Soul City, I was shown to a room and inside was The 5th Dimension, so yeah I was put in charge of The 5th Dimension. When we started, it was just a bunch of kids, I remember when Marilyn (McCoo) quit her day job at Macy's, that was considered like a major leap of faith at the time, it was like ooos and ahhs because she was sharp, she was going to the UCLA School of Business and she was a knockout."
Webb's music writing career suddenly got really serious, as he and this yet unknown, but soon to be very known group hunkered down and worked the gears together all in the quest to make magic. It would end up being one of Webb's most valuable collaborative experiences in his early development as a songwriter.
"It was all kind of like getting thrown into the deep end of the pool, so I started working with them and we never used a note of music, we called it woodshedding, we would work out the vocal parts and sometimes The 5th Dimension parts were pretty complex. We would work them out together and it would be a cooperative effort. It was just ideas flying around the room and the best ideas were captured and sort of encapsulated for posterity in these vocal arrangements.
"So when Johnny got back, he said, 'Up Up and Away' is not a great song, but it's a great title. We'll call the album Up Up and Away.' So they're sitting around a meeting one night and somebody said, 'Well, the album's called Up, Up and Away. Why don't we do Jimmy's song?" Basically, the other two singles that were released had done nothing, so they said, 'We have one strike left, we've got nothing to lose, we'll swing for the fence and we'll put out 'Up, Up and Away.' Really, by the hair of my chinny, chin, chin, 'Up, Up and Away' was released as the third single and it took off like a rocket, I mean, you couldn't have stopped it with a nuclear missile, it went straight to the top 20 and it made superstars out of them. And they're still my dearest, closest friends in the world."
Undoubtedly and admittedly, Webb's most profound collaboration was with Glen Campbell, one of those unexpected yet destined musical partnerships that clicked on every level. And stunningly, Webb had heard Campbell as a young boy, and even then he recognized there was something special there.
"I cannot completely account for the symmetry between those songs (I write) and Glen's voice except in a very roundabout way, which is to say that I heard my first Glen Campbell record when I was 14. It was called 'Turn Around, Look at Me.' It was one of his very early efforts. He would have been 24 years old. He was always 10 years older than me. I could never catch up. I know if I was 14, I know he was 24. That's young. So I thought, "Boy, that's pretty and that guy can sing. I want to write songs like that." In a sense, I was always writing that kind of a ballad. There was a resonance there the first time I ever heard him."
After Rivers recorded 'By The Time I get To Phoenix,' Campbell heard it and knew it would be hit, and he was right. It was only a few years later that Webb and Campbell's astounding musical relationship began, as they crafted, molded and sculptured some of popular music's greatest songs together, and also became lifelong friends in the process.
"I think from the first moment that we spent together, and this is after 'By the Time I Get to Phoenix,' the first time we ever sat down and played together, there was some fusion. There was almost like a genetic adaptation. It was like, oh, okay, this is my other half. I haven't got this great voice, but this guy has got the voice and he writes songs, but he's not an instinctive songwriter. We sort of became one whole entity and as far as the blend, I had instincts about how far to go with melody. For instance, 'Wichita Lineman,' I wrote for him, because it's so clean and because it's so representative of that sort of High Plains country there where the telephone poles just go on and on, some of the old timers up there say you can see for 50 miles out on the tip of the Oklahoma Panhandle going into the Black Mesa country. I think you hear that in the song. So there's a kind of symbiotic relationship that partly was there to begin with and partly it was something that he and I worked on once we realized, hey, these songs are going over great, what do we really have here?"
Webb's songwriting career has been accompanied along the way by a singing and performing one as well, one that has had some positive success and critical acclaim. But face it, when you write songs that will be played, sung and revered until the end of time, the songwriting piece might just be Webb's legacy, and he is just fine with that.
"I don't mind it. It's all right. I never worried about it too much, I have faith in my own records, and I believe that one day that they will be gone over a little bit more closely than they were the first time. But I've had a great life, I've had the respect. I've had one of my songs recorded by James Taylor and then I've had another recorded by Rosemary Clooney. I don't know how much more I could ask for really."
Even though Webb has written unforgettable songs for others, he will be covering other great songwriters on his current tour and on his next record, a fun reversal for such a prolific guy.
"I'm putting out a new album called Slipcover in April, it's some of my favorite composers. It's me doing guys that I love. Billy Joel's 'Lullaby' that he wrote for his daughter, which came out at at the same time that my family was breaking up and I was having real difficulty with the idea of separating from my four-year-old daughter. All the songs really, actually do mean something to me. There's Warren Zevon's 'Accidentally Like a Martyr,' Stevie Wonder's 'All In Love is Fair,' oh, there's Randy Newman's 'Marie, Brian Wilson's 'God Only Knows,' Paul McCartney's 'Long and Winding Road.' You just hear some of the greatest melodies of all time.'
Jimmy Webb's exuberant stories that he tells of musical discovery and partnership are endless, because his songs and his impact on music are endless, and will stand the test of time like Gershwin, Mozart, and Lennon & McCartney. And there is no one more humble, respectful and thankful for his place as of music's greatest song craftsmen.
"As a kid from the wilds, to be a wild colonial boy from the plains, to come to the big city and have this whole Horatio Alger play unfold in my own life, just moment after moment, like when they were handing me a Grammy award, I'd have to pinch myself and say, 'Is this really me? How did this really happen?' This is what I always said I wanted to happen, but now that it's happening, at times it was overwhelming. But this dream actually came true, and I guess I'm one of the great proponents of America, and fall in line and say America's the only place something like this could happen."
Jimmy Webb with Robin Spielberg performs Thursday April 11th at City Winery, 1350 Okie St NE, Washington DC 20002. For tickets click here.