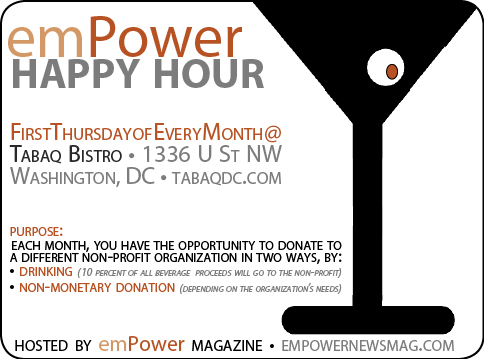 Start your month off right by networking for a good cause!
On the first Thursday of every month, emPower magazine is hosting an emPower HAPPY HOUR at Tabaq Bistro to further our mission, which is to not only discuss social issues, but also challenge our readers to take action.
Each month, you have the opportunity to support a different non-profit organization in the Washington DC Metropolitan Area. Attendees can give in two ways:
• By drinking (10 percent of the beverage proceeds will go to the non-profit)
• By bringing non-monetary donations (depending on the needs of the organization)
October Non-Profit Recipient: LIFT-DC

Mission: To combat poverty and expand opportunity for all people in the District of Columbia. We envision a day when all people will have the opportunity to achieve economic security and pursue their life goals. LIFT-DC is a community-based nonprofit that engages trained volunteers – dedicated and talented college students – to serve low-income individuals and families in the District. LIFT clients and volunteers work one-on-one to find jobs, secure safe and stable housing, make ends meet through public benefits and tax credits, and obtain quality referrals for services like childcare and healthcare. Simultaneously, the LIFT experience pushes volunteers to grapple with D.C.'s most challenging issues related to poverty, race, inequality, and policy.
Non-monetary requests:
activity and picture books for children (English and Spanish)
books about career choices, job searches and motivation (English and Spanish)
general office supplies such as pens, resume paper, sticky notes
Date: October 7, 2010

Admission is Free
Date: October 7, 2010
Time: 5-8 pm
Location: Tabaq Bistro 1336 U Street NW, Washington DC
Attire: Business Casual
Ticket/Pricing Information:
FREE!