By Steve Houk   livingonmusic.com
Among some other notable factoids, September 3, 1977 is considered by some to be the day the Grateful Dead proved to everyone that they were absolutely here to stay, drawing so many rock fans that roads were closed down, and a true Woodstockian vibe took shape. And two other pretty well-known bands were along for the ride of their lives as well.
One hundred thousand people, some say more, descended upon Englishtown New Jersey's Raceway Park on that hot and sweaty early fall day in 1977 to see not only the Dead — who had just released their seminal record Terrapin Station — but Southern Rock favorites the Marshall Tucker Band, and the Dead-like New Riders Of The Purple Sage…and rock and roll history was made.
And if it wasn't for the incredible music from three of America's best known 'jam' bands of the day, many people may have ended up regarding it as one of their worst days. "It was hot as holy hell," Deadhead Mike Jarboe recalled. "I was stuck with a friend down in front of the stage, and we couldn't get out for water. Every once in a while a bucket of water would be passed around, which may have saved people from dehydration or even death. Great show, though."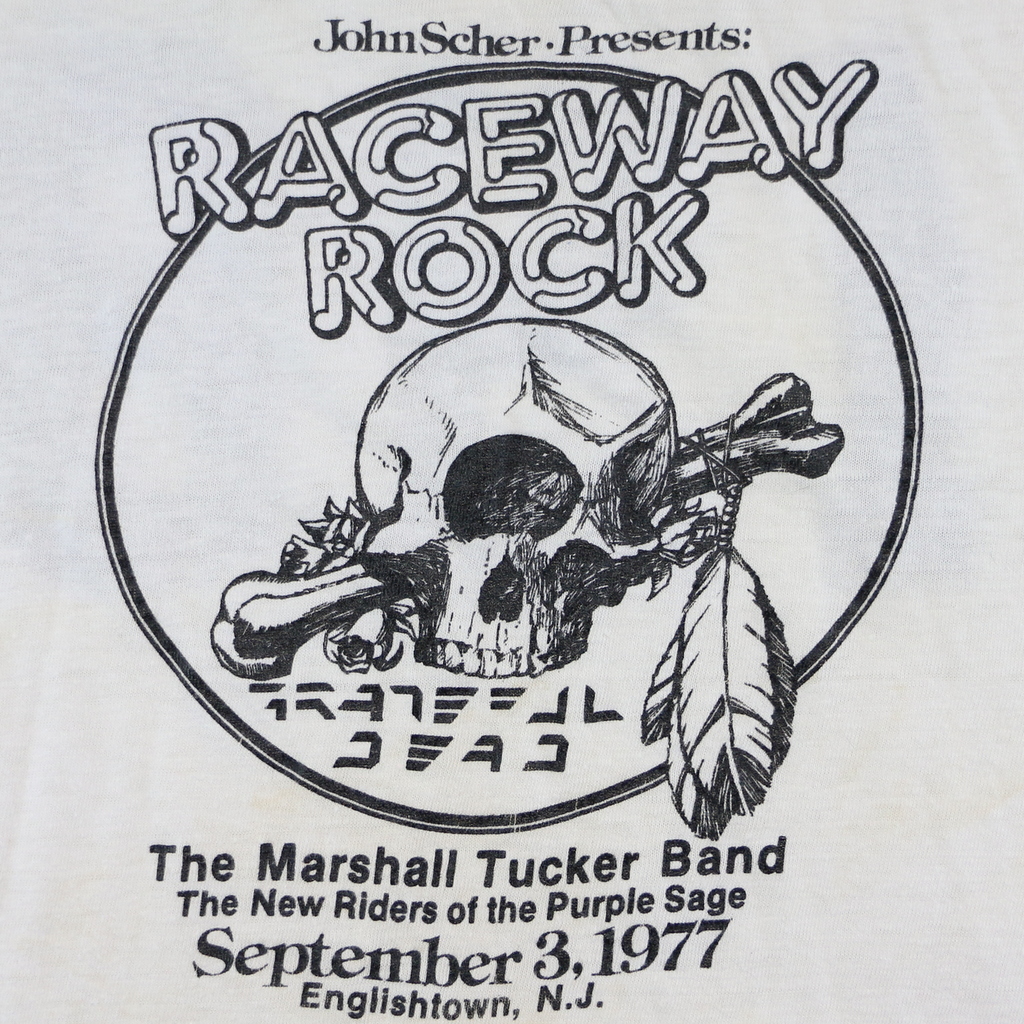 For bands like Marshall Tucker and the New Riders, it was really all about feeling totally stoked that you were playing in front of so many people, largely Deadheads, but still, it was a tremendous platform for all three bands. The massive live exposure and just the rush of looking out and seeing 100,000 strong. And over 40 years later, veteran musician Mike Falzarano still hears all about it.
"I'd been on the road, probably for the last, oh close to 15 years with the New Riders of the Purple Sage," said Falzarano, who was not at the Englishtown show, but over the years has played with not only the New Riders but Hot Tuna, Jorma Kaukonen and others. "Over the last couple years we had been on hiatus, but during the time when we were on the road, it seemed like almost everywhere we went, somebody inevitably would come up to me and say, 'Hey, I saw you guys at Englishtown!' or 'I saw you guys at that Englishtown show, it was my first Grateful Dead show. You guys were great!' So over the years, I kept thinking, 'You know, I should do something with this Englishtown thing. It was really popular.'"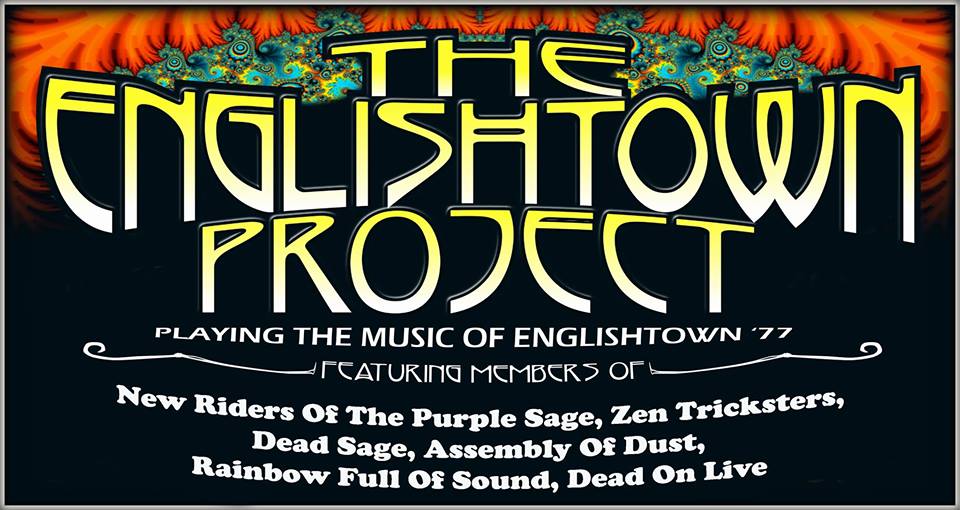 And do something he has. Falzarano has gathered together a treasure trove of stellar musicians and hit the road as The Englishtown Project, playing a revolving swath of music from all three bands – the Dead, Marshall Tucker and the New Riders — all in homage to that sweltering day when rock and roll took over the Raceway and cemented the three bands into live music history. The show comes to DC's Hamilton Live on Friday March 29th.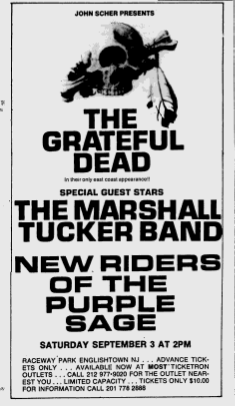 But the question remained — could basically a very high-end tribute/cover band fill enough seats in decent sized venues, and also, did this classic rock music still have enough cache to make it a worthwhile endeavor? Judging by the response, the answer is a resounding "yes" to both.
"A year ago, we contacted Peter Shapiro who owns the Capitol Theater and Brooklyn Bowl and is responsible for a lot of big Grateful Dead things and he said he loved the idea. So we thought we'd do one show, and we did, at Garcia's, the smaller place that Pete owns, and about 180 people showed up, and we thought, 'Wow, that's a big crowd for that place, wow, there's something to this thing."
"So it was a rainy Sunday night on Memorial Day weekend at Brooklyn Bowl, and we thought, 'Ooh, this is gonna be tough, to fill this room,' but lo and behold, about close to 400 people showed up. We thought, "Wow, we must be onto something here." So the one show has turned into, I don't know, 30 or 40 shows, and we're booked out as far out as November of this year."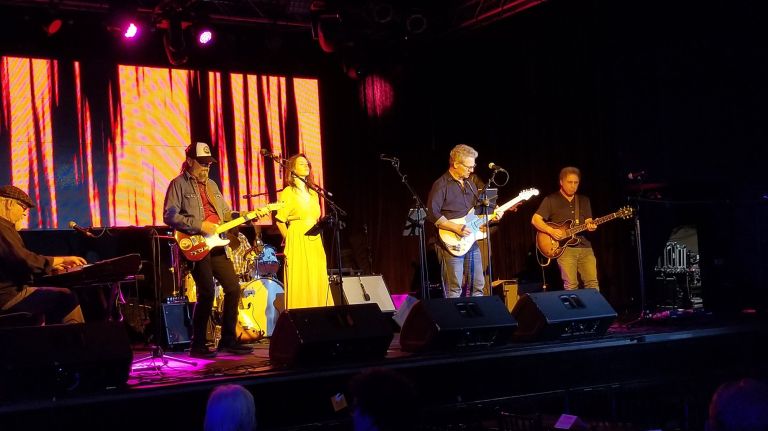 In what some are calling a true jam band supergroup, the all-star lineup for The Englishtown Project that will play DC this run includes Scott Guberman (Phil Lesh and Friends), Rob Wolfson (Dead Sage), Klyph Black, Tom Circosta and Dave Diamond (Zen Tricksters), vocalist Clare Maloney (Rainbow Full of Sound) and special guest keyboardist Mookie Siegel (David Nelson Band).
"We're developing it as we go, but because we've all played together, and we're all very familiar with the material, it seems natural to us, and the audience just seems to be really getting off on it. A lot of people, especially in the (New York/New Jersey/Connecticut) area where we're all located, they know and love the Zen Tricksters. They were very popular for a long time, and would still be popular if Jeff Mattson hadn't left the band to go play with Dark Star Orchestra. And the 15 years with New Riders, and playing with all the members of the band, and playing all the stuff that I've played, it does help."
But Falzarano thinks it's a combination of both the caliber of players and the lasting legacy of the music that fills the seats.
"That particular event featured the Grateful Dead who everybody loves; the New Riders, who I'm associated with and everybody loves, and Marshall Tucker, who I got to be honest, I had no idea people would be that drawn to and enthusiastic over the Marshall Tucker stuff. I knew that the audience was going to love the Grateful Dead stuff and the New Riders stuff. It just goes without saying, because I'm in the New Riders. But we were all pleasantly surprised by what a great reception the Marshall Tucker material gets every night, still, to this day. Every night we play some of those Marshall Tucker songs, they sometimes get the biggest response of the evening."

When the Project started, one question was whether or not the band would try to roll the same sets verbatim that the three bands played that day in 1977.
"First of all, there were I believe 68 songs played that day, so there was no way we could do that in two sets. I wanted to do a full set of Riders and Tucker followed by a set of the Dead, and it worked out okay but we sensed from talking to people in the audience, some people were disappointed, because they got there late and didn't hear any New Riders, and some people were disappointed they had to wait half the night to hear the Grateful Dead. So we decided to do a mashup, two sets of music that were played that day and other music by the three bands. So we always do a different set, a different combination of songs."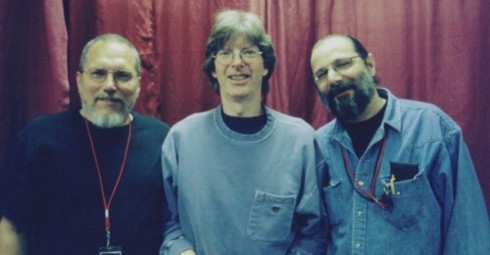 And for a young rock musician who grew up on Long Island playing the music of his idols to be not only still be playing their music but also playing with them? Well, it's been a rock and roll dream come true for Falzarano.
"Growing up on Long Island, I started playing in bands when I was 16 or 17 years old, we were playing all the bars on Long Island and Manhattan and Queens, and I was playing the music of Hot Tuna, the Grateful Dead, the New Riders, Quicksilver, the Band and others. I never dreamed, in my wildest dreams, that I would some day actually be in those bands, as a member of Hot Tuna, and a member of the New Riders of the Purple Sage, playing with most of the members of the Grateful Dead, here and there, not as a band, but sitting in with them. And now this project," he says, "Just amazing."
The appeal of The Englishtown Project can certainly be attributed to the superbly experienced band Falzarano has assembled as well as the great classic rock music they play from the three bands that took the stage that steamy day in New Jersey. But some of the charm is clearly the fact that it's music not on display with top shelf bands much these days.
"There aren't that many bands out there doing this stuff, so people don't get to hear it that often. And if I must say so myself, we execute it pretty good."
The Englishtown Project performs Friday March 29th at Hamilton Live, 600 14th Street, NW. For tickets click here.