By Steve Houk   livingonmusic.com
Three years ago, a movie called "Hired Gun" came out. The well-told documentary highlighted the stories of some of rock and roll's best musicians, many largely unknown to the average listener, who may have had solo careers, but were also primary players in someone else's successful bands. They were hired to fill open slots and to enhance the band's sound by bringinf a fresh and powerful dynamic to the group, even for just a few tours or a couple of albums.
Nils Lofgren is a good bit more than a "hired gun," but he does fit into and relish that role. Yes, he has had a successful solo career, dating back to his teenage days with his first band Grin, through a couple dozen well-received solo studio and live records including a nine CD/DVD retrospective, and right up to his superb new album Blue With Lou (2019) featuring several songs he co-wrote with the late Lou Reed.
But it's how he keeps the thread going over time with some of his big time bosses that is one of Lofgren's most treasured musical charms.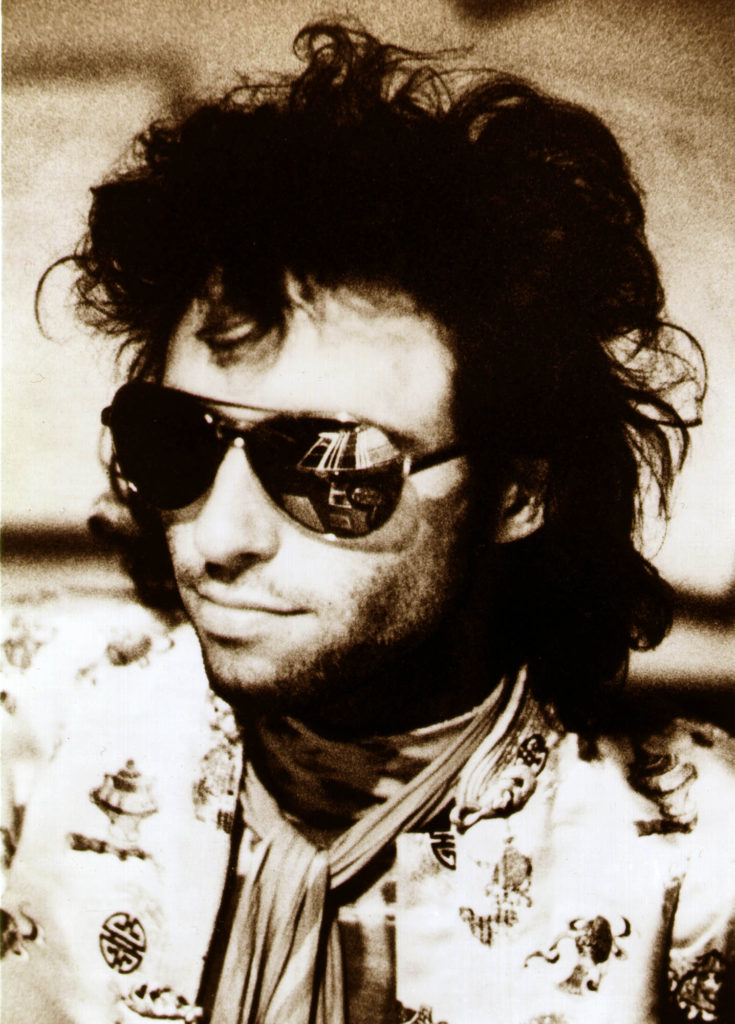 Quick recap: it was in the late 60's when Lofgren met Neil Young at DC's Cellar Door, and soon after, the then-18-year-old Nils played on After The Gold Rush. Not only was he also an original member of Crazy Horse in 1970, playing again in '71 and '73, he just recently drove 10 hours each way to Colorado to reunite with Young for a new Crazy Horse album and possible tour. Staying power like that is darn impressive with a very selective guy like Young.
In 1984, when he was brought on as somewhat of a sub-in to replace the departed Little Steven Van Zandt in Bruce Springsteen's E Street Band, sure, everyone hoped he'd stick around for a while. Well stick around he has. To this day, he remains a permanent member of the legendary band, was inducted into the Hall of Fame with the rest of the Jersey boys in 2014, and when called, still goes out to conquer the world with Bruce on tour, sometimes with out much notice.
For some musicians, it may be too much work, or not enough personally, to balance a strong solo career with the unpredictability of being a rolling member of a legend's band. But to Lofgren, it's an ideal situation, a dream scenario really, where he gets to be the front man sometimes, while also sitting back and letting musical greats like the Boss and Young call the shots. Looking back, he finds peace and harmony with his various roles, and also appreciates how playing with others has sparked his solo career.
"It's been a very rocky, beautiful 50 years," Lofgren told me as he prepared for his current tour which hits the Birchmere for two nights May 21st and 22nd. "I hit the road with Grin in '68 at 17, and a year later I was 18 and making After The Gold Rush. But driving to work at Neil's house, I still remember saying, 'Man, it's fun not to be the boss today.' I mean, first I got to be the leader of a band and I took that with me through the years as I got rare opportunities to play with Ringo Starr's All Starr Bands, and of course the E Street Band, and a number of great bands with Patti Scialfa and Willie Nelson. I'm a band person, I thrive in that environment and I actually enjoy not being the leader every single day of my life. You get to sing harmonies, play different instruments, have a different perspective, play a lot of rhythm guitar, which I prefer to lead. And then, when I get back to my own music, I feel a bit more refreshed and excited about my next chapter."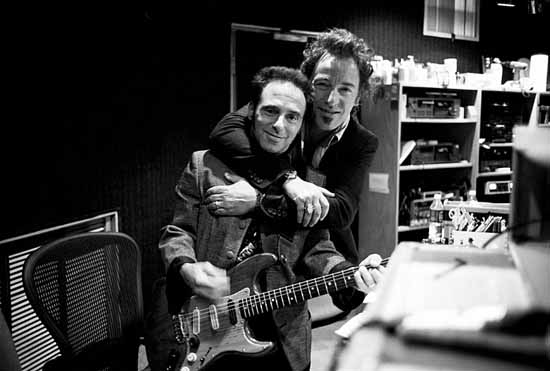 After working so closely with two of rock and roll's greats, does Lofgren see any similarities or differences between Springsteen and Young?
"Really the only two differences to speak of are the sound of their voices and guitars. Otherwise there are massive similarities in the sense that they're brilliant writers, musicians, very passionate, great live performers. They're really as into it as we all were when we were kids, and they tend to give the musicians they work with a lot of rope. I mean, they'll give you direction, but then they like to be hands off and let you create something that may inspire them. So the similarities are far greater than the differences."
Lofgren's deep collaboration with another rock and roll legend, Lou Reed, is an experience that in some ways may surpass them all. It was forged by renowned producer Bob Ezrin (Pink Floyd, Phish, KISS, Deep Purple) who, while producing one of Lofgren's albums, suggested a co-writing partner in Reed when things started lumbering along lyric-wise. It was this suggestion that springboarded an unexpected yet magical bond between Lofgren and Reed, resulting in some truly excellent music and a cherished and lasting encounter.
"Bob suggested co-writing, and I don't do that much," Lofgren said with a sparkle in his voice. "But I said, 'Well, it depends on who it is' and Bob said, 'What do you think of Lou Reed?'  And, I was like, 'Well I love Lou Reed,' but I thought that would be very unlikely. Next thing I know, we went to Lou's studio and had a 20 minute chat with him and he said, 'Look, I'm open to the idea, let's get together next week and talk about it."
"So I met him at his apartment," Lofgren eagerly continued. "I was shocked to find out he's an NFL fan and the Cowboys/Redskins game was on that night, and go figure, he's a Cowboys fan, so we rooted against each other, sipped some whiskey and talked about writing. Since I had so much work done on this music, he said, 'Send me a tape, and let's start with that.' So I sent him a cassette of 13 songs, and about two and a half weeks went by and I forgot about it. So Lou wakes me up at 4:30 in the morning and says, 'Look, I've been up for three days and nights, I love this cassette and I've completed 13 finished sets of lyrics I feel great about.' I was shocked. He said, 'If you want to get a pad and pencil, I'll dictate them all to you right now.' I didn't want to lose that moment, so I put on a pot of coffee and sat there meticulously for at least a couple hours taking dictation from Lou Reed, and looking at thirteen songs we now wrote together."
Reed was so thrilled with the results from this new alliance that he wanted to waste no time recording them. And their partnership may have even been extended, had it not been for Reed's untimely death from liver cancer at age 71 in 2013.
"Lou said, 'Look, there's three of these I want to use right now,' and I said, 'That's great.' And we used three, on the Nils Album. I put out two since, so there were five that got left behind, and I always thought Lou would call me and want to revisit them. And tragically when we lost Lou, I knew that the responsibility fell on me to make sure they were shared, and they were on (Blue With Lou)."
As if that weren't enough, Reed stunned Lofgren with his wondrous plans for another one of his tunes, a rare spoken word version of a song Reed dedicated to a film icon.
"I had a song called 'City Lights' and (Lou) said, 'I love your chorus, I'm keeping your chorus, but I'm going to write a story, I've written a story about Charlie Chaplin.' And he did a narrative of it, he did a spoken word version alluding to my music and the track. And I felt like someday I wanted to do it and sing the melody and so I did on 'City Lights' on (Blue With Lou). But it was also much like a song called 'Life' I did on the Damaged Goods record back in '95, when Branford Marsalis played a brilliant sax and Lou was in New York and actually came to the studio, heard the final mix and loved it, which is very heartening and encouraging. And Branford agreed to play sax on 'City Lights' on the new record."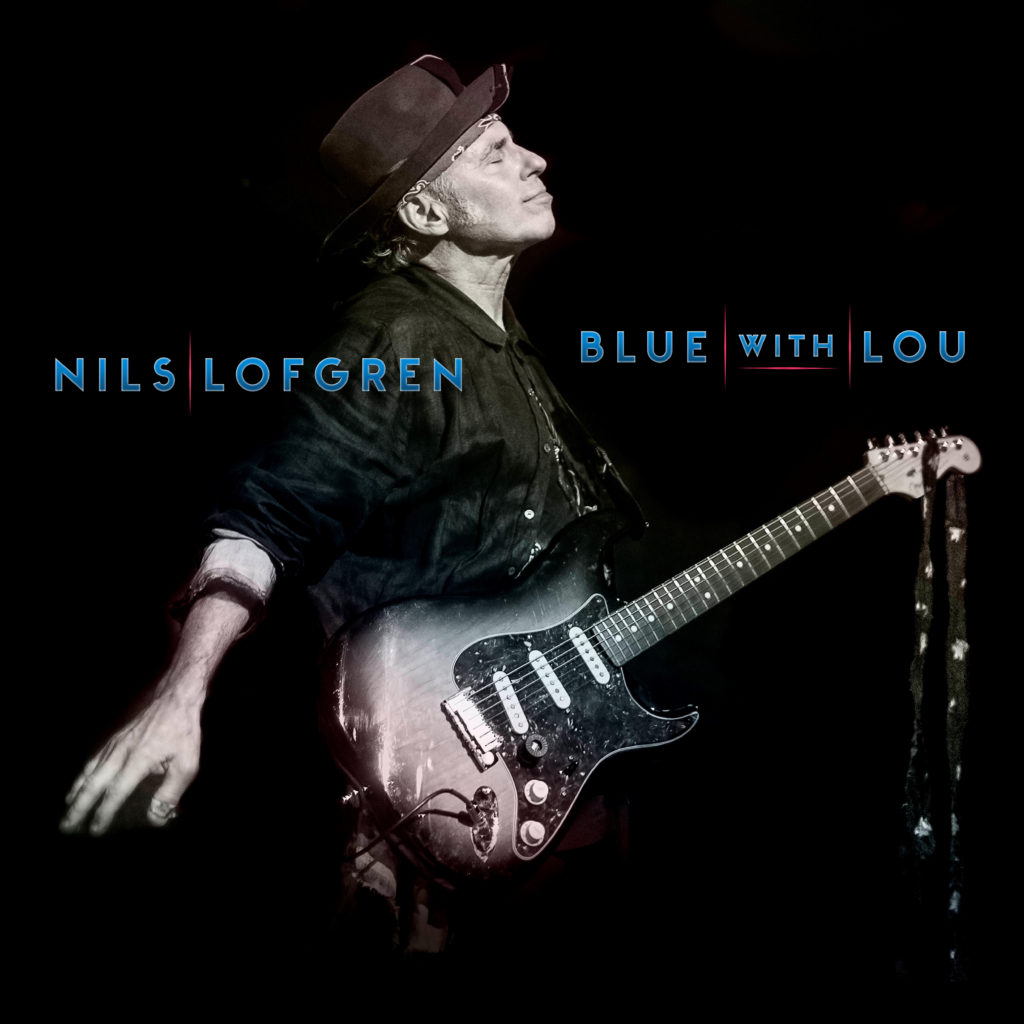 As for the here and now, and the excellent Blue With Lou, Lofgren glows when talking about the recording experience behind it, where some old school processes came into play.
"Yeah, I feel great about it, I think it's one of my best ever. Really took my time over a couple years to conceive it, write it, record it live in the studio. We rehearsed a long time. No quick tracks, no drum machines, no isolation booths, just three guys in a room, with all the sounds running into each other, playing together like the old days. It was cool."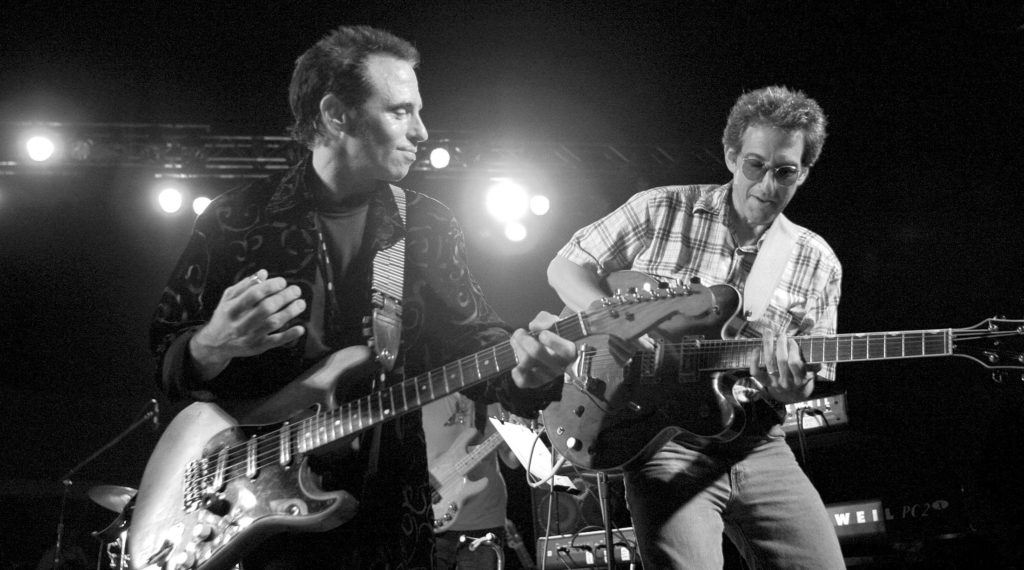 And being out on the road as The Nils Lofgren Band after such a long time away from doing his solo gig feels, well, nearly as comfortable and thrilling as any of the tours with the big guns. He forever relishes his times with Bruce and Neil and Lou, but being with his own band and playing his own music again feels, well, damn good.
"I'm excited to play a couple of my sets. Plus (The Birchmere) holds a special place for me, and I have my brother Tommy in the band. It's just amazing, and yeah, I haven't played with a band in over 15 years. I can't even remember the last time I had a band and made a record. So yes, it's exciting for me."
The Nils Lofgren Band performs Tues May 21st and Wednesday May 22nd at The Birchmere, 3701 Mount Vernon Avenue, Alexandria VA 22305 . For tickets to 5/21 click here. For 5/22, click here.